---

Air Element Pendant in Gold With Diamonds
For Gemini, Libra, Aquarius.
Free Shipping from Ka-Gold in Israel.
---
Your Day of Birth
>



The GOLDEN SPIRAL
in Gold
Symbol of
Harmony and Beauty

---

Personalized Magical Couples Rings
in Silver and Gold
Made according to couple's birth charts.

Meant to Strengthen the bond of love.

Great for wedding or anniversary rings.

GEMINI
May 22 - June 21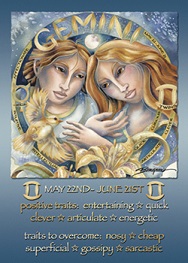 Gemini image by (c) Jody Bergsma's Zodiac Art